---
The British Royal Family has a long and rich history of patronising the finest carpets and textiles, which have adorned the halls and rooms of their palaces for centuries. From luxurious hand-knotted Persian rugs to the finest Axminster carpets, the Royal Family's love for high-quality floor coverings has remained constant.
Carpet weaving has been a part of British culture for centuries. The earliest recorded evidence of carpet weaving in Britain dates back to the 14th century, when it was predominantly a cottage industry. However, it wasn't until the 18th century that carpets became a status symbol for the wealthy and aristocratic.
During the reign of King George III in the late 18th century, the Royal Family began to actively promote British carpet weaving. The King himself was an avid supporter of the industry and commissioned several carpets for his palaces, most notably the Windsor Castle carpet. This carpet was created by Thomas Whitty, the founder of the Axminster Carpet Company, using a method he developed that revolutionized carpet weaving. The Windsor Castle carpet was made from a blend of wool and silk and featured a striking floral design in bright colours.
The Axminster Carpet Company continued to produce carpets for the Royal Family throughout the 19th century, with their carpets becoming synonymous with luxury and quality. The company's carpets adorned the floors of Buckingham Palace, St James's Palace, and Windsor Castle, among other royal residences.
In the early 20th century, the Scottish carpet manufacturer James Templeton & Co. became the preferred supplier of carpets to the Royal Family. The company's carpets featured intricate designs and were known for their durability and longevity. One of their most notable commissions was the carpet for the Coronation of King George VI in 1937, which featured the Royal Coat of Arms and a border of Tudor roses.
In recent years, the Royal Family has continued to patronise British carpet manufacturers, with the current supplier being the Wilton Carpet Factory in Wiltshire. The factory has been producing carpets since the 17th century and is known for its traditional weaving techniques and high-quality materials.
One of the most significant carpets produced by Wilton is the Jubilee Carpet, created for the Queen's Golden Jubilee in 2002. The carpet was made using a combination of wool and silk and featured a design inspired by the Queen's personal emblem, the cipher EIIR. The Jubilee Carpet was displayed in Westminster Abbey during the Golden Jubilee celebrations and later moved to Buckingham Palace.
In conclusion, the history of British carpets in the Royal Family and their palaces is one of luxury, quality, and innovation. From the early days of carpet weaving to the present day, the Royal Family has played a significant role in promoting and supporting the British carpet industry, ensuring that the tradition of producing high-quality carpets continues to thrive.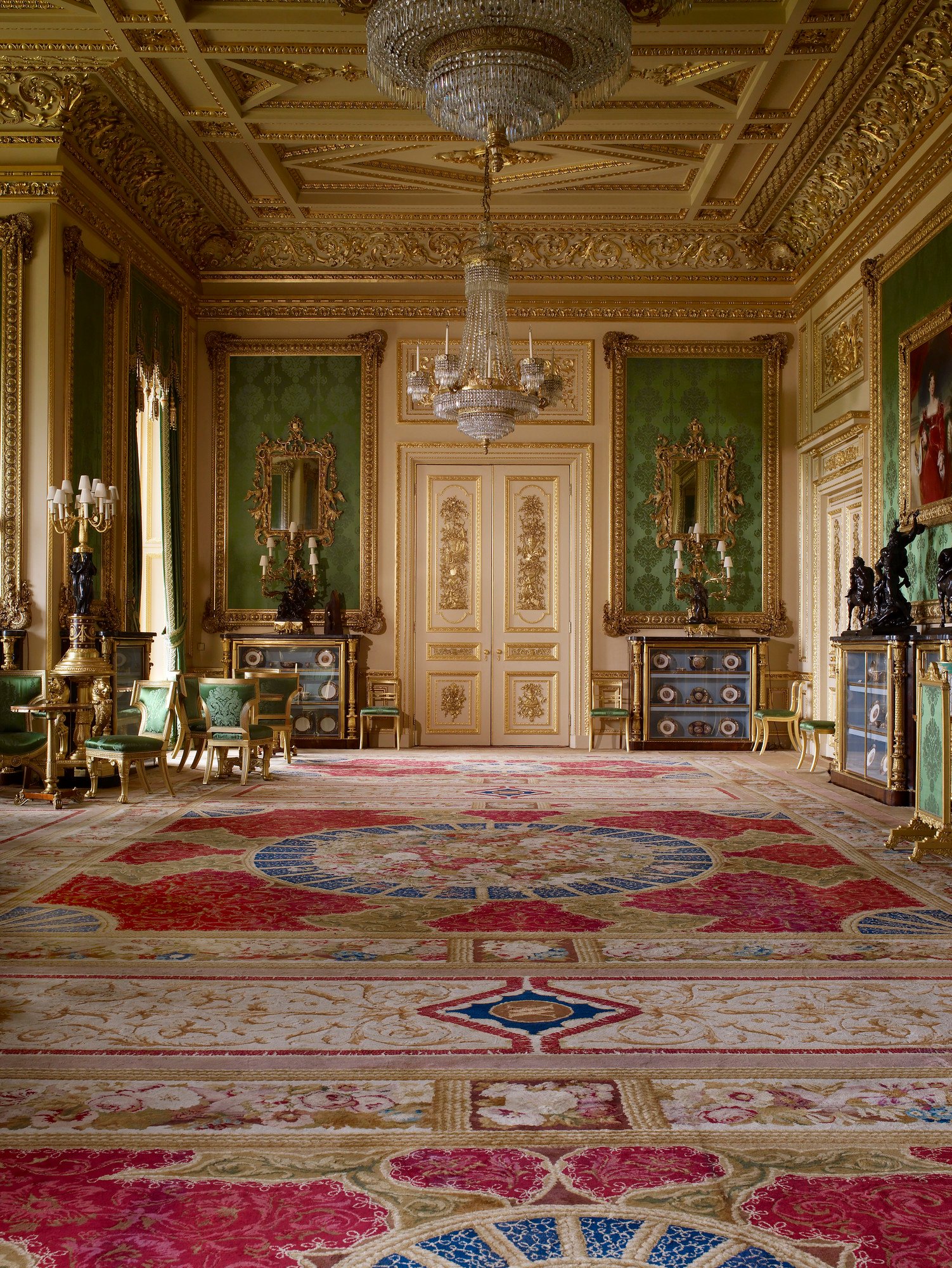 At Gloucester Carpet Outlet we stock all the leading British brands: